Transform Your Smile & Restore Your Confidence With Cosmetic Dentistry
Smiling is one of life's many joys and is something that Dentistry for Life takes to heart. We understand the weight that an imperfect smile carries and we believe that you don't have to carry that weight alone. Like you, hundreds of our patients come in trying to better their overall health and get a brighter better smile. 

Rated 5-Stars by 450+ Clients on Google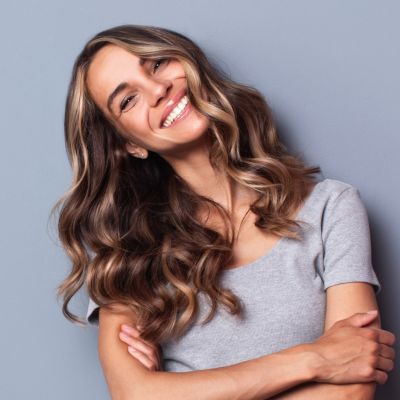 Don't Let Your Smile Hold You Back...
Build Confidence

Find Joy

Improve Self Esteem

Live A Fuller Life

Find Yourself

Have Better Function

Smile More Often

Make Lasting Impressions
Our Cosmetic Dentistry Services
Constantly worrying about your smile and comparing it to others isn't unfair. We believe everyone deserves to have a smile they're proud of. We have helped hundreds of others that are dissatisfied with their smile by providing smile transformations like Invisalign and more that have improved hundreds of lives with our cosmetic dentistry treatments. Cosmetic Dentistry is the branch of dentistry that is dedicated to improving the appearance of your smile.
Hide your smile from the world

Watch others get promoted before you

Watch your friends find love as you sit back

Have an imperfect smile 

Have questionable oral health
We are committed to delivering better overall health, restored confidence, a smile that you're proud of, and a smile that offers unlimited potential.
My husband and I have been seeing Dr. Davé for over 10 years now. We trust her to take great care of our teeth. We've had fillings, crowns, whitening, and even Invisalign over the years. She is conservative with her recommendations, but also let's you know if something needs attention right away. Her staff is also very kind and professional. In a decade of going there we've had only great dental care and customer service. She's the best!
Marti S.
Patient
This dentistry is awesome. Every single person you see or speak to there is super attentive. Super caring, super professional, etc. They pay a lot of attention to detail and answer every single one of your questions, whether it be about your teeth or finances. They made me feel welcomed, they were patient with me, and I can tell they genuinely wanted to help me with my oral issues. Highly recommend!!!
Marlen C.
Patient
I love this dentistry office! Dr. Davé and her staff are always so friendly, kind, and understanding. They are very accommodating with my Invisalign appointments, and offer to adjust any aligners that are giving me problems.
Katie M.
Patient
Dr. Rupal and Dr. Chinmay make an excellent team! Our family of 5 have been coming here for 20 years!! Love their new office! The staff is so professional and have been there for years! They have the winning formula and you definitely want to be a part of it!
Tanuja B.C.
Patient
Frequently Asked Questions
Cosmetic Dentistry is the branch of dentistry that is dedicated to improving the appearance of your smile. Typically it involves one or more of the following dental treatments:
Teeth whitening,
Veneers
Dental Bonding
Invisalign
Dental Implants
Smile Makeover
Cosmetic dentistry isn't normally painful. It's both safe and effective and increases the appearance of your smile and overall oral health. Cosmetic dental procedures like dental bonding, veneers, and crowns help strengthen your underlying tooth.
The price of cosmetic dentistry varies from patient to patient and depends on the procedures that need to be done in order to enhance the smile.
Typically dental insurance is not covered by insurance. However, if a cosmetic procedure such as crowns is needed to repair the structure and efficacy of the tooth then insurance may cover it.
Like hundreds of our patients say, yes! Cosmetic dentistry is the perfect way to invest in yourself and improved your confidence, oral health, and quality of life.
Yes! Cosmetic dentistry can fix a wide range of smile imperfections like discolored teeth, stained teeth, missing teeth, broken/cracked/chipped teeth and more.