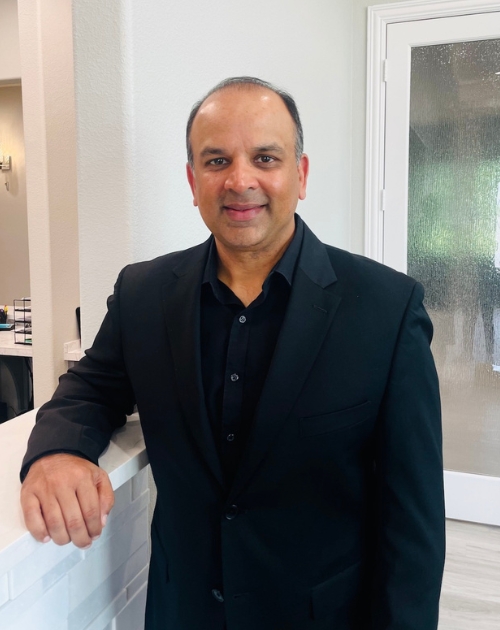 As far back as Dr. Chinmay Dave can remember, he's always had a passion to help people, fix broken things, and to draw and paint. As a career choice he knew he wanted to find something that would allow him to be a doctor, engineer, and artist at the same time. During his undergraduate years at Texas A&M University in College Station, he was exploring career choices and got to spend time with a local dentist in a dental practice to see if dentistry would be a good career choice for him. What he learned from this experience was that dentistry fit all three of his passions and a spark was lit!
Dr. Dave is a proud Aggie who bleeds maroon! It's not surprising to hear Dr Dave greet his office guests with a loud and proud Aggie "Howdy!" He attended Texas A&M University in College Station and graduated in 1998 with a Bachelor of Science in Biomedical Sciences. After graduating from Texas A&M in 1998, Dr. Dave was accepted to the doctorate program at Texas A&M College of Dentistry. His training here in downtown Dallas was from 1998 to 2002. Fun fact: Dr Dave's wife, Dr Rupal Dave also graduated from Texas A&M College of Dentistry after completing her undergraduate studies at SMU.
After graduating from Texas A&M University in College Station 1998, Dr. Dave completed his Doctorate of Dental Surgery from Texas A&M College Dentistry in Dallas, Texas in 2002. It was in 2002 that Dr. Dave began his professional career path in dentistry. After graduating in 2002 from Texas A&M College of Dentistry with his DDS, Dr. Dave spent his early years training as an associate doctor with mentors in private practice. Dr. Dave to this day gives his mentor doctors so much credit for not only helping him master his clinical skills, but also for teaching him how to listen to and speak to patients, and develop the leadership skills to lead a team of office support team members. It was in 2005 that Dr. Dave opened his office Dentistry for Life, with his beautiful wife Dr. Rupal Dave, also a dentist, in Keller, Texas.
What get's Dr. Dave excited to go to his office every day is knowing he will get to spend time with the people he enjoys spending his time with the most. Weather it's with his wonderful, caring staff, or with patients he's been seeing for many many years, it's these relationships that are what Dr. Dave enjoys most. In addition, Dr. Dave' is truly passionate about helping his patients get the dentistry they want, and making sure that the dentistry he provides is done comfortably and built to last.
Dr. Dave grew up in a small town called Bay City, just south of the Houston area.Dr. Dave is an avid tennis player, and has been playing since he was 8 years old. He spends most of his free time with his wife and kids. Both Dr Dave's have three boys. Their younger two boys are twins. All three boys are avid tennis players and Dr. Dave often spends his free time as their tennis coach. Watching movies, reading, and outdoor hiking are just some his hobbies.